A Place of Compassion--
For when you just have to do SOMETHING
Purpose
When you feel overwhelmed by the pain in the world, this page will help you to help others quickly by providing:
(1) Images and information that give quick, visual coordinates for Situations, People, and Creatures in desperate need so you can use whatever methods you have–Reiki, Johrei, Chi Healing, prayer, other personal methods–quickly, easily, on the fly, whenever you have time, wherever you are;
(2) Images and  quick, clear coordinates to reach The Good Guys–i.e. people and organizations–who are doing wonderful work to help others and the planet so you can offer them support quickly and easily with Reiki, Johrei, prayer, chi healing,  other personal methods, and/or donations.
Noel the Bobcat
Noel bobcat, hit by a car at Christmas and salvaged by intense surgery for broken bones by Big Cat Rescue in Tampa) is recovering nicely/hair growing back over surgical sites. She gets up and down without difficulty.
She's still confined to hospital recovery cages until her bones heal and are strong enough to withstand more space. Then she will be moved to the bobcat rehab enclosures (outside) to strengthen her muscles until she can hunt. There is not yet a date for that move, but so far so good! You can see how she is doing for yourselves, and track her amazing recovery process (thank you Reiki list!) – this link is the live nest cam that shows her activity in real time.
https://video.nest.com/live/JqfJnsJA9h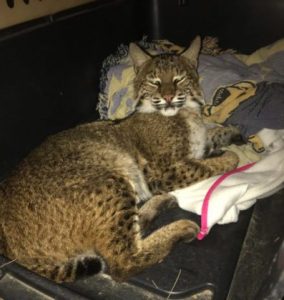 https://bigcatrescue.org/noel/
Florida Shooting Hero Anthony Borges
Anthony Borges is a 15-year-old high school student at Stoneman Douglas High School. During the recent deadly Florida, Borges helped save 20 students.  He was shot 5 times as he tried to close and lock a classroom door.  Borges has survived,  but remains in the hospital with a long road to recovery ahead of him.
The Good Guys
Yes, there are crises everywhere we look such that it is easy to feel overwhelmed by the suffering. But at the same time there are many, many people and organizations stepping up to provide help in specific crisis situations  as well as to the ecological crises across the planet. You won't  hear much about these Good Guys on the news, but they also need our energetic support since they are working in the name of all of us who hold Compassion.  When we offer Reiki and Johrei to the Good Guys we leverage our abilities and we help move the planet closer to a point of positive critical mass.
We will regularly highlight some of the Good Guys here so we can quickly and easily offer them energetic backup.
Canadian Scientists' bold new plan to save polar bears
A group of Canadian scientists have come up with a bold, long term plan for saving the polar bears whose numbers are declining due to the diminishing amount of sea ice that they use for hunting. As the sea ice is diminishing at approximately 14% per year because of global warming, the polar bears are being forced to travel longer and longer distances to find food and many are literally starving to death.  For the full story click here.
The Ocean Cleanup announces Pacific Gyre cleanup to begin May 2018
The Ocean Cleanup is preparing to begin deploying it's full scale model of Boyan Slat's ocean cleanup system beginning in May of 2018 with full deployment expected to be complete by 2020.  If you have not had a chance to check out Boyan's work, it is definitely worth looking at.   www.theoceancleaup.com
Tea Farmer in India leads the charge for organics
In the biggest tea-growing region in India, the hazards alone range from red spider mites to herds of wild elephants. Grower Tenzing Bodosa, a native of Assam, fights the former and unusually invites the latter. Tenzing's small 13-hectare (about 32 acres) tea estate sits in the folds of the Himalayas, and borders the mountain kingdom of Bhutan to the north. Tenzing transitioned to organic farming after an incident with pesticides on his own farm convinced him he needed to change. In addition to the transition to all organic farming, Tenzing dedicated 74 acres of  his estate as a wildlife preserve and spends much of his time teaching and encouraging other tea farmers how to switch to organic farming.
CHECK BACK: UPDATED ON A REGULAR BASIS